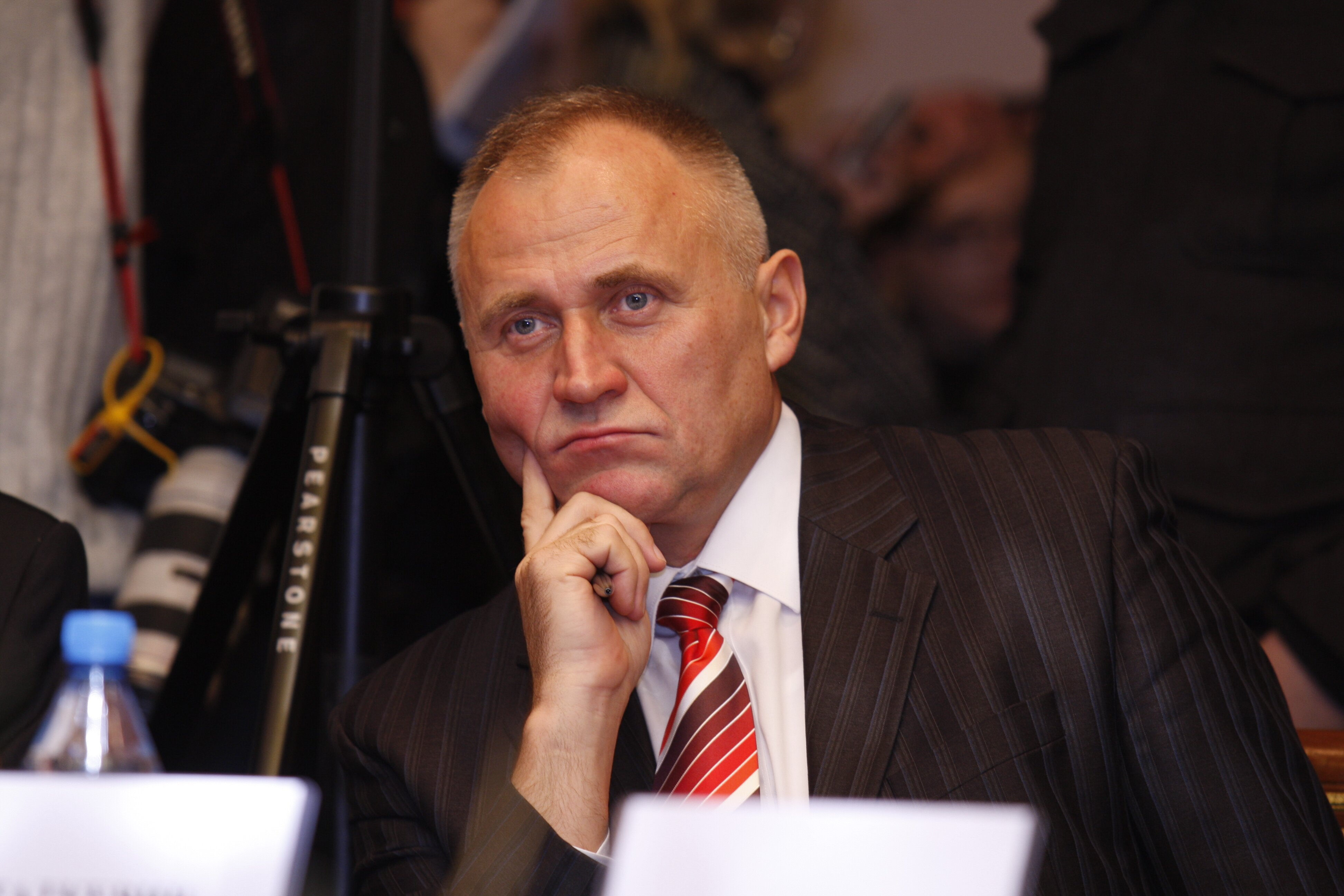 Born on 12 August 1956 in the village Ladno, Slutsk region, in the district of Minsk in Belarus. In 1978 he graduated from the College of Engineering, with the title of Radio-electronics engineer.
From 1978-1982 he served in the Red Army in Murmansk in the north perimeter of the USSR. There he became a member of the Communist Party of the Soviet Union (the CPSU), which he left in 1991 to protest against the suppression of Vilnius. In 1986 he obtained PhD in technical sciences. He served as a Lieutenant-Colonel in reserve. He was the founder of the Belarusian Union of Military Officers.
In 1995 he became a member of the Central Rada and Executive Committee of The Belarusian Social Democratic Party (People's Assembly) and short after he became its chairman. After the unification of the party with the Social Democratic Party of Popular Accord he became president of newly created the Belarusian Social Democratic Party (Assembly). In 1999 he became chairman of the Eastern European Social Democratic Forum. In 2000 he ran for the House of Representatives, but was not elected. In 2003, he became the leader of the European Coalition Free Belarus.
Chronicle of repression
In 2005 the politician was sentenced under the art. 342, part 1 of the Criminal Code of the Republic of Belarus (organization and active participation in group actions, seriously violating public order) to three years of imprisonment for organization of the opposition protest after the referendum on the parliamentary elections. In July 2007 he was released on parole.
In 2010 Mikola Statkevich was one of many democratic candidates at the presidential election. After the crackdown of the opposition demonstration he was arrested and imprisoned. Statkevich was found guilty of organization of mass riots on 19 December 2010. On 26 May 2012 the court sentenced him to six-year imprisonment in a maximum security penal colony.
On 12 January 2012, Statkevich was transferred from the penal colony to a closed prison in Mahilou, where conditions of confinement are much more severe (he allegedly violated prison rules).
In January 2012 Statkevich spent 10 days in a solitary confinement cell. On 12 January 2012 was tried for alleged violations of the prison regime. The regime of the punishment was toughened, as a result of which Mr. Statkevich was transferred from penal colony #17 in Shklou to cell-type prison #4 in Mahiliou. On January 12, 2015 the prisoner was returned to penal colony #17 in Shklou.