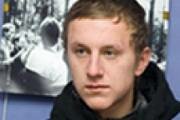 Born on 25 November 1990 in Salihorsk.  
Chronicle of repression
Criminal case against Ivan Shyla, a minor activist of the Young Front from Soligorsk, was launched on 10 May 2007. He was charged under the article 193, part 1 of the Criminal Code (acting on behalf of an unregistered organization).
Ivan Shyla heard the following accusation: "Despite knowing that the Ministry of Justice on 26 November 2006 refused to register the organization Young Front because of its illegal activity, Ivan Shyla led in Solihorsk structural unit of the non-governmental organization Young Front in order to achieve the objectives set out in its constitution and took an active part in its development."
On 4 September 2007 the Solihorsk District Court with General Prosecutor Mr. Chernishewich examined the case of Ivan Shyla. Judge Mr. Lapin found Ivan Shyla guilty of the alleged offense under the article 193 of the Criminal Code of the Republic of Belarus and issued an admonition to Ivan.
Ivan Shyla was a participant of the tent city protests against fraud during the presidential election 2006, on the Kalinowski's Square in Minsk, for which he and his brother and his father were all arrested. In February 2012 Ivan was detained for 22 days for action of solidarity with unjustly arrested Dmitry Dashkievich, leader of the Young Front and for participation in demonstration in front of the penal colony in Gorki as well as in the silent protest in Solihorsk.
In 2008 Ivan was expelled from the high school No. 4 in Solihorsk for his oppositional activities. This event took place during the final exams. Olga Sienkova, the school's principal left her post to protest against this decision.
Ivan currently lives in Poland.