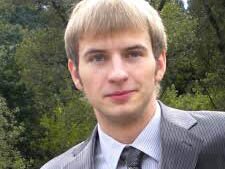 Andrej Hajdukou was born  in 1990 in Novopolatsk, Vitebsk district.
Chronicle of repression
Andrej Hajdukou was arrested in Vitebsk on 8 November 2012. He allegedly had "gathered and passed political and economic information on the instructions of a foreign intelligence agency." Andriej was held for a period of nine months in Minsk KGB detention center and later in the KGB detention center in Vitebsk.
At the moment of arrest Andriej Hajdukou was a fifth-year student at the chemical engineering and technology department of the Polatsk State University and a fitter in charge of instrumentation at the Naftan oil refinery in Novopolatsk. Hajdukou is an activist of the unregistered organisations Union of Young Intellectuals and Belarusian Christian Democracy.
The trial started on 12 June in Vitebsk. Meetings of the court were confidential. On 20 June, his mother Volga Hajdukou testified before the court as a witness. She had not seen her son from the date of arrest.
The article, on which the charge was based was changed to more lenient. Initially Hajdukou was accused under two articles: the art.14 part 1 (attempt to commit a crime) and the art. 356 part 1 (treason). Nevertheless, on 19 June, Valery Vakulchyk, head of the Committee for State Security (KGB) stated that the Novopolatsk activist may be tried under a different article. On 27 June, during the trial  the prosecutor asked for two years imprisonment for Andriej Hajdukou.
On 1 July 2013 the court in Vitebsk sentenced Andrej Hajdukou, to one and a half years in a penal colony for attempting to make contact with foreign service special agents.