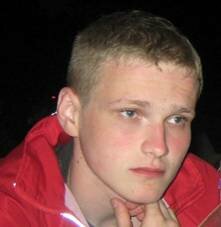 Born on 27 May 1990 in Minsk. Former student of the Faculty of Law at Minsk Institute of Management. His studies were suspended after the 19 December events. Activist of the For Freedom movement.
Chronicle of repression
Mikita was detained on 19 December 2010 on the Independence Square in Minsk and sentenced to 15 days of arrest. However, the verdict was revoked on 28 January 2011 and Mikita was facing charges for involvement in the 19 December mass riot. He was transferred from the Zhodzina pre-trial prison to the Volodarka prison. On 27 March Mikita was convicted to three and a half years' imprisonment. He went on a hunger-strike to protest against the unfair verdict. On 7 May 2011 he was transferred to the prison in Novopolotsk. He was several times held in the solitary confinement cell. He was released on amnesty on 14 September 2011.