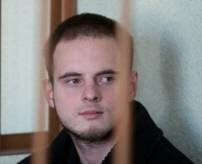 Born on 22 June 1988 in Borisov. Former member of the Zubr youth opposition movement. His mother was reportedly dismissed from work for her son's political activity. He studied at the Minsk International Humanities and Economics Institute. He was relegated from the Institute for his political activity.
Chronicle of repression
Aliaksandr was detained on 6 January 2011 in Borisov. He was charged with participation in the mass riots and with insulting national symbols. He was being held in custody in the KGB pre-trial prison. On 2 March he was sentencted to three years in prison. He served his sentence in the penal colony in Mahilou. Released on amnesty on 14 September 2011.
However, shortly afterwards against Aliaksandr was opened the second criminal proceeding. In November 2011 he was re-arrested in Borisov and was kept  in temporary custody. This time the opposition leader was accused of stealing scrap metal. Aliaksandr could not find work because of the political process, no one wanted to hire him, so he earned for his and his parents living by collecting scrap metal. On 9 April 2012, he was sentenced to one year and six months of imprisonment in a maximum security colony. He was released on 13 July 2013.