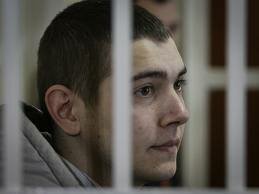 Born on 27 April 1988. Russian citizen, has a Belarusian residence permit, residing in Belarus since 1995. His mother Sabira Atakishiyeva was born in Kyrgyzstan, his father is of Russian origin. Ivan finished school in Belarus and speaks Belarusian fluently. Ivan studied on the Odessa University.
Chronicle of repression
Ivan Haponau participated in the 19 December protest rally and was sentenced to 10 days of arrest. Released on 29 December together with other Russian nationals. However, an hour later he was detained in the criminal case. On 5 January, he was charged under the art. 293 of the Criminal Code (mass riot) and kept in custody in the pre-trial prison in Valadarski Street. On 10 March he was sentenced by the Maskouski District Court of Minsk to a fine of  300 minimal wages (10.5 million rubles).