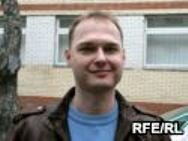 An activist of the United Civil Party. He was one of the detainees in the Case of 14 and sentenced for his participation in the solidarity demonstration with the entrepreneurs on 10 January 2008. On 11 January, he was arrested for 15 days. In February 2008, he was summoned for questioning as a suspect.
Chronicle of repression
On 22 April 2008 the Minsk court judge, Ilina Jelena, found Mikalay Kryvau guilty of the art. 342, part 1 of the Criminal Code of the Republic of Belarus (organization and active participation in group actions, seriously violating public order) and sentenced him to two years of freedom restriction.
He graduated from the journalism department at the Belarusian State University, and completed the master's degree at the University of Son Jose (USA) and the Moscow State University of International Relations. After the delivery of the judgment Kryvau left Belarus and now lives abroad.