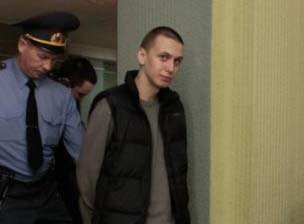 Born on 6 May 1990 in Novopolotsk. After graduating high school he worked as an IT programmer. Later he moved to Minsk, where he began to work. He was interested in the history of political parties. In his hometown he joined the anti-fascist movement, in Minsk he  became friends with anarchists, with whom he shared views.
Chronicle of repression
On 20 September 2010 Aliaksandr Frantskievich was charged under the article 339, part 2 of the Criminal Code of the Republic of Belarus (hooliganism). He was accused of video taping the attack on the militia building in Solihorsk. On 14 February he was additionally accused of the attack on the trade unions building and an assault in Salihorsk (the article 218, part 3 and the article 339, part 2 of the Criminal Code). Damage was estimated at 1 million 900 thousand BYR.
In anticipation for the trial Frantskievich was kept in the Volodarka prison in Minsk. During the investigation, Frantskievich's lawyer Pavel Sapelka was disbarred by the Minsk City Bar for the defense of political prisoners and convicted for participating in the peaceful demonstration of 19 December 2010.
Despite he has health problems (has only one kidney) Aliaksandr was kept in pretrial facility since September 2010. Aliaksandr Frantskievich, served his term in the Ivatsevichy penal colony. He was released on 3 September 2013.