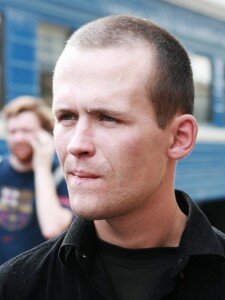 He was born on 30 August 1983 in Minsk, finished 9 classes of the Minsk school No. 163. He worked as a locksmith. He was an activist of the unregistered Belarusian Freedom Party. Actively participated in the defense of Kuropaty in 2002. He took part in protest actions of the Young Front and Zubr youth movement. He was repeatedly detained by militia and sentenced to administrative detention. During the 2010 election he was a member of  electoral staff of Uladzimir Niklajeu. He took part in the demonstration on the Independence Square on 19 December 2010.
Chronicle of repression
Detained in Minsk on 4 January 2011 for taking part in 19 December 2010 rally and charged with organizing mass riots. After three days he was transported to the Volodarka prison, as a defendant charged under the art. 293.  On 17 February 2011 the Frunzenski District Court in Minsk sentenced Vasil to four years in penal colony. He served his sentence in the colony in Orsha. From 17 to 27 July he was in a solitary confinement "for breaking the rules of the prison outfit." On 11 August 2011 he was pardoned by the President.
After his release, Vasil Parfiankou continued civil activities and was repeatedly detained for involvement in protests in support of Belarusian political prisoners. On 5 January 2012, the court established preventive supervision for a period of one year over Vasil. On 29 May 2012 Vasil Parfiankou was convicted under the art. 421 of the Criminal Code of the Republic of Belarus (breaking the rules of preventive surveillance). Parfiankou's case was considered by the infamous judge Siarhei Bandarenka. He was sentenced to six months' imprisonment. On 24 July the Minsk City Court rejected the appeal and left the sentence unchanged. He was arrested on 9 August 2012. He served his sentence in the penal colony in Baranovichi. On 12 July 2013 Vasil was again accused under the art. 421 of the Criminal Code. The case was submitted to the court yet the trial did not take place. But on 21 September 2013, after serving five nights of administrative detention, Vasil Parfiankou has been placed in medical and labour dispensary No. 1 in the town of Svetlahorsk.