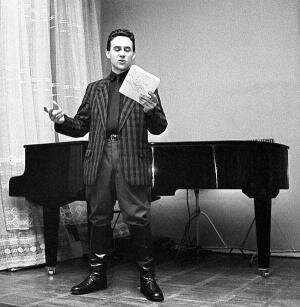 Slavomir Adamovich was born on 8 March 1962 in Russia. Later, his family moved to ancestral homelands and settled in Belarus. He graduated from vocational school No. 17 in Swirsk (the Southern Baikal region). He has worked in Kazakhstan, sovkhoz Budslav, for Belarusian railways, and in the Kirov machine factory in Minsk. He is a Belarusian legendary poet and social activist, author of several books of poetry. In the mid-90s was the leader of the organization the Right Revanche which brought together people of culture, supporters of Belarusian history and contemporary Belarusian art. In 1992 he graduated from the Faculty of Philology of the Belarusian State University in Minsk. In 1991-1995 he worked in the Teachers Gazette. He also worked for Nasha Niva.
Chronicle of repression
In 1995 Adamovich has been accused of inciting terrorist acts by publishing a poem entitled Kill the President.  The trial of the poet  began in Vitsebsk on 22 August 1995. The poem Kill the President  was published in the Vitsebsk paper Vybar. Adamovich was also accused of illegal weapons possession and an attempt to cross the border illegally. He was arrested in 1996 and held in the KGB prison. Although his verse did not refer to any concrete situation or personality, Adamovich was detained for almost a year.
He was released in February 1997, after ten months of detention, and was forbidden to leave the city. In August 1997, at the public demonstration he has sewn his mouth together in protest against the violation of freedom of speech in Belarus. He was detained several times for protesting against the authorities.  In 2000, on the Freedom Day Adamovich was brutally arrested along with dozens of other oppositionists in the center of Minsk.
In 2000 Slavomir Adamovich went to the U.S., where he worked on construction sites in New York. In September 2002, he went to work in Norway, where he requested to be granted political refugee status. He currently lives in the town of Buda, northern Norway.