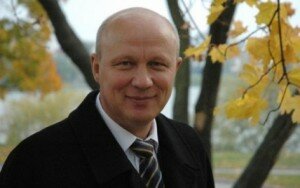 Born on 25 November 1955 in Minsk. Aliaksandr Kazulin is and one of the candidates who ran for the office of President of Belarus on 19 March 2006. He was a rector of the Belarusian State University from 1996 to 2003 and a government minister serving under the Belarus President Aliaksandr Lukashenko but in November 2003 he fell out of favor and was dismissed. After leaving the office he became involved with the opposition. The former leader of the Belarusian Social Democratic Party (Assembly).
Chronicle of repression
On 2 March 2006, Aliaksandr Kazulin was beaten and detained by militia after attempting to enter the All Belarusian People's Assembly. On 25 March 2006 he was arrested by the authorities for  participating in the demonstration against rigged elections.
On 13 July 2006, Kazulin was sentenced to jail for five and a half years by the court in Minsk. He was convicted for participating in the March protests, he was charged under the art. 339, part 2 of the Belarusian Criminal Code (hooliganism) and under the art. 342, part 1 of the Criminal Code of the Republic of Belarus (organization and active participation in group actions, seriously violating public order). On 19 September 2006 the sentence was upheld by the Minsk court. Aliaksandr Kazulin started a hunger strike on 20 October. Kazulin protested in this way against the policy of Aliaksandr Lukashenko, and in order to draw attention of the international community to the situation in Belarus. The protest was interrupted on 12 December, after 53 days, due to Kazulin's extreme exhaustion.
On 5 August 2008, he was formally dismissed from the post of chairman of  the Assembly. On 16 August 2008 he was released from prison. He was pardoned by President Lukashenko. In 2010 he  announced his candidacy in the presidential election in December 2010.