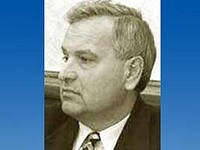 Siarhiej Antonchyk- the member of the Supreme Council, one of the organizers and leaders of the Belarusian labour movement.
Born on 1 April1956, in the town Pleshchenice,  Minsk district. The son of a former political prisoner who spent 17 years in Stalin's camps.
In 1989, he joined the BPF party. He was an activist and co-founder of the labour movement in April 1991.
In the years 1990-1995, he served as a delegate to the Supreme Council of the Republic of Belarus and to the Minsk City Council. In the Parliament he represented the oppositional BPF party. He participated in the proclamation of independence of the Republic of Belarus. In 1992 he was one of the initiators of the referendum on the early termination of the Supreme Council.
He participated in the famous anti-corruption committee of parliament, headed by future President Alexander Lukashenko. After Lukashenko became the head of state, Siarhiej Antonchyk presented in the Supreme Council the report on the corruption among people surrounding the president (20 December 1994). Newspapers that were going to publish the report, got an official ban on publication.
Chronicle of repression
Between 1994 and 1995 were initiated penal proceedings against Siarhiej Antonchyk. The court claim was brought by the President's attorney  Ivan Titenkov. Antonchyk was accused of slander. The court, sentenced him to a fine of about $ 20,000. Property of Siarhiej Antonchyk was partially confiscated.
In April 1995, Siarhiej Antonchyk was beaten, along with other Members of the BPF, during the hunger strike protest in the parliament building.
In August 1995, regardless of parliamentary immunity, Antonchyk was arrested during the strike of Minsk metro workers. He was detained for a few days together with the trade union leader Mr.Bykow.  This was the first attempt to kidnap the leaders of the opposition in the recent history of the country.
In 2001, Siarhiej Antonchyk became a candidate for president, but gave way to Mikhail Marynin. He was engaged in the establishment of trade unions, including Workers Mutual Aid. He was detained by the militia and security services for more than 40 times.  Two criminal proceedings were initiated against him.