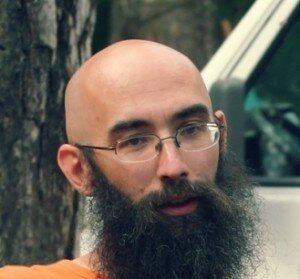 Andrej was born on 18 July 1970 in Minsk. He studied chemistry at the Belarusian State University. In 1993, he created the Beer Lovers Party of Belarus. For a time he cooperated with  BPF News and Svaboda newspapers.
Chronicle of repression
On 24 May 1995 Andrej Ramaszeuski was detained for publicly burning the flag of the Byelorussian SSR. He was detained for malicious hooliganism. OMON pacified action and arrested 20 people. After almost a year, on 29 April 1996, Ramaszeuski was arrested for taking part in protests on 24 May 1995. After 3 months of imprisonment, on 19 July 1996 he was sentenced under the article 201, part 2 (malicious hooliganism). He was sentenced to two years imprisonment, suspended for one year. The sentence was delivered by judge Kirilovich. Later Andrej emigrated to the Czech Republic and became a Czech citizen.