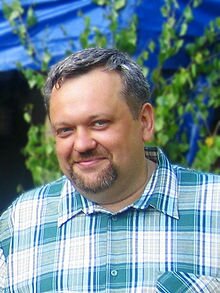 He was born on 15 August 1963 in Grodno. He graduated from a vocational school in Grodno, then studied at the Belarusian Institute for the National Economy. He worked as a locksmith. In 1991 registered as an entrepreneur. Headed Grodno regional union for protection of taxpayers', consumers' and drivers' rights and Grodno consumer protection center.Chronicle of repression
On 1 May 2004 Valery Levaneuski was arrested in Grodno during the demonstration. Participants of the action demanded the resignation of Lukashenko. He was sentenced to two years imprisonment along with Aliaksandr Vasiljeu, with whom he run unregistered nationwide strike committee of businessesmen.
The court found them guilty of publicly insulting President Aliaksandr Lukashenko. The prosecution used the text of the leaflet, which called on people to come to Grodno on 1 May.
Valery served his sentence in various prisons and colonies: in the city of Grodno, the pre-trial detention center in Baranovichi, in the penal colony in Ivatsevichy and in penal colony in Mahilou. He was released on 15 May 2006.