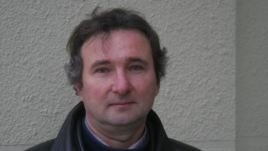 Uladzimir Lysko was born on 20 July 1957 in Borisov. After graduation, he enrolled in technical college where he studied Geophysics. In 1975, he was drafted into the army, he served three years in the Baltic Fleet. After serving in the Army and graduating from technical school, he moved to Minsk, where he started to work as a geophysicist for the Council of Ministers of the USSR. Since 1989, he participated in the actions of the Belarusian opposition.
Chronicle of repression
In 1997 Uladzimir was convicted for taking part in the the Day of Will – Belarusian Independence Day on 23 March 1997 at which demonstrators and militia clashed many times.  In the same case were charged  5 other people. On his way home from the rally he was detained by militia officers in civilian clothes and took to the Volodarka prison where he spent a month. After he left the prison he was banned from leaving the place of his residence. In November 1997, Vladimir Lysko was sentenced to two years of forced labour. On 8 March 1998, he was sent to Homel, to the labour colony where he was to serve his sentence. On 12 March 1999, he was released on amnesty.
In November 2000, he was arrested and sentenced to a fine for his participation in the youth rally "Changes!".