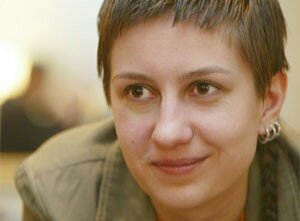 Tatsiana Elavaya – a well known Belarusian blogger. One of the organizers and participants of  the organized by the opposition tent city, a demonstration against electoral fraud in 2006. The demonstration took place on the October Square and lasted for more than three days, until all its participants were arrested. After 3 months of this action, some of the participants united and formed a resistance movement in Vilnius "Rise," which was later resolved.
Chronicle of repression
The criminal case against the youth activists, Denis Dzianisau and Tatiana Elavaya was initiated under the article 14, par. 1 and the article 342, part 1 of the Criminal Code of the Republic of Belarus (organization and active participation in group actions, seriously violating public order).
According to the head of the department for the supervision of the investigation, Mr. Zabavski "Denis Dzianisau together with more than 25 people, who were having more  than 1 000 leaflets, was detained by militia on 17 June 2006  while trying to perform an illegal action Revolt in the Summer Amphitheatre in Vitebsk ".
On 19 June  2006, the authorities initiated a criminal case. In October, Elavaya and Dzianisou were considered as defendants in the case.
Tatsiana Elavaya left Belarus, she broke free from the hands of the militia and security services who were at her home. She managed to leave the apartment on the 7th floor, she used a rope to escape.
She graduated from the University of Vilnius.
On 30 May 2007 criminal case against Tatsiana Elavaya and Denis Dzianisau was closed due to lack of evidence.
In July 2009, the Russian nationalists threatened Tatsiana Elavaya, who in the  blogosphere is known under the nickname Zmagarka (Female Warrior), for publication on Live Journal the video with the executions of young Russian prisoner of war in Chechnya in 1999. "I would like to warn everyone. I do not support violence in Grozny, Chechnya, however, until the Russian troops are stationed, as long crimes will be repeated "- wrote Elevaya. This entry became extremely popular on Yandex portal. The blogger has received more than 2000 comments.