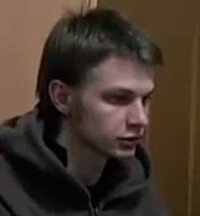 Born in April 1991 in Bobruisk, Mahilou region. He graduated from a vocational school. He had no specific political views neither did he belong to any political party. He worked as a turner in a metallurgical plant. At the same time he enrolled in the Technical High School of Chemistry. He is interested in computer science. He composed and played with his friends in a rock band.
Chronicle of repression
Detained on 17 January 2011 on suspicion of the attack on the KGB headquarters in Bobruisk launched on 14 October 2010 in solidarity with the anarchists arrested in September 2010. Pavel Sytamalotau, Arciom Prakapenka and Jauhien Vaskovich were sentenced to 7 years of imprisonment for attack on the Babruisk KGB office in October 2011. Babruisk court considered them guilty of malicious hooliganism and severe damage of property.
On 18 May 2011 Pavel Sytamalotau was found guilty of intentional destruction of property and sentenced to 7 years imprisonment in the penal colony with reinforced regime. He served his sentence in the Mahilou penal colony No. 19. Released on amnesty on 27 September 2012.