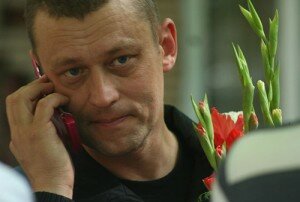 Siarhiej Parsiukievich is a retired militia officer. He started his own business in Vitebsk in 2004. He was a leader of the Union of Pivate Businessmen in Vitebsk. During the 2006 presidential election he served as an observer, appointed by Aliaksandr Milinkevich. He was detained and arrested a number of times. Currently he is involved in Tell the Truth! Campaign.
Chronicle of repression
Thousands of people, including civil society activists and businessmen, took to the streets in Minsk on 10 January 2008 to participate in a demonstration against the introduction of a presidential decree concerning restrictive tax and employment regulations for small businesses. A number of people were detained for taking part in the demonstration among them Siarhiej Parsiukievich. On 13 January he was arrested in Vitebsk and brought to Minsk. On the following day he was given 15 days of arrest for participating in the demonstration. During this period he went on hunger strike.
On 28 April 2008 the District Court in Minsk sentenced (Judge Vladimir Avdeenko) Siarhiej Parsiukievich, under the article 364 of the Criminal Code (violent actions against a militia officer), to two and a half years of jail and a compensation of 1.1 Million BYR. In May attorney Vera Striemkovska after meeting with the prisoner made ​​a statement about the poor health of her client. On 21 May Siarhiej was transferred to the prison hospital. After surgery, he was transferred to the penal colony in Shklov and then to a prison in Minsk. On 20 August 2008, Siarhiej was unexpectedly released on amnesty by President Lukashenko. After his release, he continued political activity.