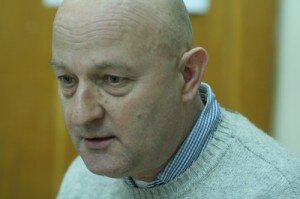 Uladzimir Podhol – a political scientist and journalist. Born on 22 December 1952, in Vitebsk. He graduated from physical education high school and afterwards from the Faculty of Philosophy at the Belarusian State University. Worked as an assistant professor. Member of the BPF party.
In 1990, in Vitebsk, together with Boris Khamaida, Uladzimir Plieshchanka and Siarhei Navumchyk, he created a club For Democratic Elections, and the newspaper The Choice.
Chronicle of repression
On 15 August 1997 the deputy prosecutor of the Vitebsk District, Mr, Zygalenka, initiated proceedings (under the article -insult of the highest government official) in relation to the publication of an excerpt of Uladzimir Podhol's book Bullet for the President in the newspaper The Choice. First excerpt was published under the title Canoe of despair in Santa-Mess, that is to love the President in June 1997. The whole circulation was stopped and handed over to the KGB. On 20 October 1997, by the motion of prosecutor's office the daughter of Uladzimir Podhol, Jelena, was summoned. Her father was on a wanted list, but the woman refused to reveal his place of stay. On 30 August 1998 the KGB captain Dementiei and captain Liebiediev had found Uladzimir Podhol in Vitebsk and handed him over summons to appear in the Prosecutor's office. On 16 November 1998 the investigator of the Prosecutor's office in Vitebsk District, Savchenko, suspended the proceedings under the art. 5, Part 3 of the Criminal Code of the Republic of Belarus. However, after two months, on 16 January 1999 the criminal proceedings were renewed.
In 2004 the Prosecutor's office in Minsk initiated criminal proceedings after the publication of the second part of the novel titled Bullet for the President in St. Petersburg.  In January 2005, Podhol was summoned to the Prosecutor's office in Minsk by investigator A. Pikorev.
In 2012 Podhol was put forward as a Member of Parliament on behalf of the BPF Party but soon after his name was deleted from an electoral register. The criminal proceedings against Podhol are still under way, suspended for unlimited period.