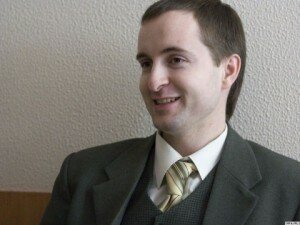 Aleś Strielcow is one of the defendants in the Case of 14. Аles Strielcov is a Social Democrat, he was a deputy chairman of the Belarusian Social Democratic Party. He was detained a number of times for participating in opposition actions. On the night of 24 March 2006 he took part in the tent city protests against fraud during the presidential election 2006, on the Kalinowski's Square in Minsk. He was arrested and sentenced to 10 days in jail.

Chronicle of repression
Thousands of people, including civil society activists and businessmen, took to the streets in Minsk on 10 January 2008 to participate in a demonstration against the introduction of a presidential decree concerning restrictive tax and employment regulations for small businesses. The demonstration was organized by entrepreneurs who had applied to the authorities for permission to hold the demonstration. They did not receive a reply to their request and decided to go ahead with the protest. Fourteen individuals were subsequently convicted for "taking part in or organizing actions that gravely disturb public order," among them Ales Strielcov who was detained during the demonstration.
On 21 January 2008 he was charged under the art. 342, part 1 of the Criminal Code of the Republic of Belarus (organization and active participation in group actions, seriously violating public order). On 22 April 2008 judge of the District Court in Minsk, Jelena Ilina found Ales Strielcov guilty and sentenced him to two years of freedom restriction.
Currently Ales works in a private trading company.