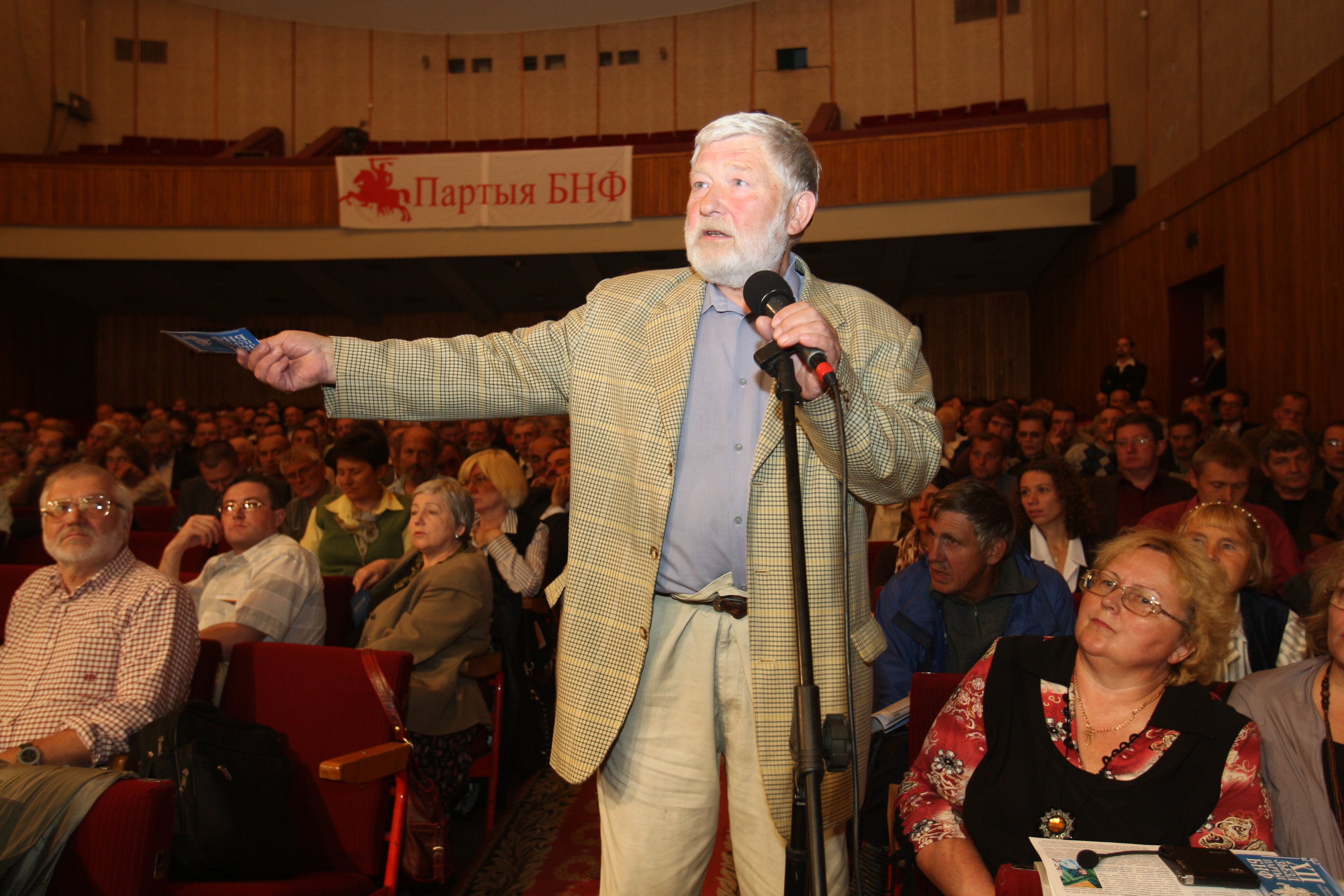 A well known politician and scholar. One of the first political prisoners in independent Belarus. He was born on 23 June 1938 in Minsk. Yury Hadyka graduated with honours from the high school No. 4 in Minsk. In 1960 he graduated from the Faculty of Physics of the Belarusian State University. He worked at the Institute of Physics of the Academy of Sciences of Belarus. In February 1965, Yury made Ph.D. in aerodynamic physics. In 1975, he became the head of electro-section that aim was to predict the development of weapons for 15 years ahead.  In 1976 he received the title of professor of physical and mathematical sciences.
In 1967 and 1969 he received offers to join the Communist Party. In autumn 1969 he organized in the Academy of Sciences of Belarus a lecture about the old Belarusian art. He organized at the university a support group of the Organizing Committee of the Belarusian Popular Front. He gather about 70 people. In 1989 he became a deputy chairman of the Belarusian Popular Front "Revival". He held this position until December 2007.
In the years 1996 – 2000 he was a member of the Supervisory Board of the Belarusian Helsinki Committee. In 1997 he was appointed a rector of the People's University, and in 1998 he became a member of the Editorial Board of the journal Otkrytoje Obszczestwo. He was chairman of the board of the Independent Institute for Socio-economic and Political Issues. Author of over 150 scientific papers in physics, 200 scientific and technical papers, 40 publications on the art of Belarus as well as more than 350 media publications about the current political problems.
Chronicle of repression
In 1996, Yuri Hadyka and his co-worker Vyacheslav Sivchyk were arrested for taking part in the Chernobyl Path, an annual demonstration that takes place in commemoration of the Chernobyl nuclear accident. They both went on a hunger strike in prison to protest against their arrest. Prisoners were released under pressure of international opinion and with the help of Russian authorities. The leader of the Russian party Yabloko, Grigory Jawlinski turned to President Boris Yeltsin for help in freeing the prisoners. Mr. Yeltsin called Lukashenko and soon after the prisoners were released.
Yuri Hadyka was released on 21 May 1996 on bail. After  23 days of hunger strike he was so exhausted that he went straight to the hospital. However, charges had not been withdrawn. It happened only a few years later, just before the split of the Belarusian Popular Front. Mr. Hadyka is one of the founders of the new Movement of Belarus.