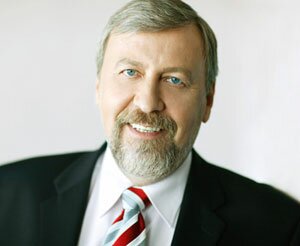 Andrej Sannikau was born on 8 March 1954. He is a Belarusian politician and activist. He co-founded the civil action Charter 97 and is a coordinator of the European Belarus campaign. Sannikau was a candidate at the 2010 presidential election in Belarus.
He is a grandson of Kanstantin Sannikau, a Belarusian director and founder of the Yanka Kupala National Academic Theatre. He graduated in 1977 from the Minsk State Pedagogical Institute of Foreign Languages ​​and, in 1989, from the Diplomatic Academy of the Ministry of Foreign Affairs of the Soviet Union. In 1980-1981 he worked in the Belarusian Society of Friendship and Cultural Relations with Foreign Countries, in the years 1982-1987 in the UN Secretariat in New York. From 1989 he worked in the Ministry of Foreign Affairs of the Byelorussian Soviet Socialist Republic, since 1991 the Republic of Belarus. In 1993-1995 he was an advisor of the Mission to Belarus in Geneva.
On the eve of the unconstitutional referendum in November 1996, by which Lukashenko gained near-absolute power, Andrej Sannikau resigned in protest from the post of the Deputy Minister of Foreign Affairs of Belarus.
He was one of the organizers of the famous protest marches "Let us live!""For a better life," Freedom Marches and protests against the rigging of election results in 2001, 2004, 2006, 2008. In 2005 he was awarded the Bruno Kreisky Prize.
Chronicle of repression
Andrej Sannikau announced his decision to run for the office of President of the Republic of Belarus in mid-March 2010. After the election results were revealed, the opposition leaders organized a demonstration on the evening of 19 December on the Independence Square in Minsk. However, the demonstration was suppressed by the authorities. Sannikau and his wife Irina Chalip were among those attacked by militia during the rally. Sannikau was severely beaten. Both Chalip and Sannikau were detained in the KGB facility in Minsk.
On 20 December Sannikau's lawyer was allowed to meet the prisoner. After the meeting he revealed that Sannikau bore many traces of injury: he could not walk, had a sprained or broken leg, marks of beatings on his head and bruises on his hands.
On 14 May 2011, the court in Minsk sentenced Andrej to five years in penal colony for "organizing mass riots" on the evening of 19 December 2010. He served his sentence in the colony in Bobruisk, where he was kept in solitary confinement. Later he was transferred to the penal colony in Vitebsk. He was repeatedly threatened that he would be killed, as well as his wife and son.
Sannikau was pardoned by President Lukashenko and released on 14 April 2012. On 26 October 2012 he has announced that he is seeking political asylum in the Great Britain.