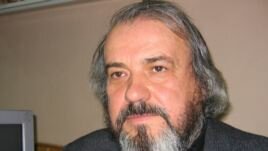 Ryhor Kijko – an artist, a painter, an activist of the Belarusian Popular Front party (BPF). He was born on 27 June in the village of Celujkovo, in Ukraine, in a family of teachers. His family later moved to Belarus, his mother's homeland. In 1980 he graduated from the Belarusian Art Institute. He is a member of the Belarusian Union of Artists. Ryhor works in the BPF movement from its very beginning. In the late 1990s the party's conservative wing split from the main BPF to found an independent political party – the Conservative Christian Party BPF which Ryhor joined. He has participated in many street actions. He is an academic, and continues his work as an artist.
Ryhor Kijko died of cancer on October 3, 2014.
Chronicle of repression
Ryhor was detained by militia many times. In the spring of 1996 he was sentenced to 8 days in jail for participating in a rally of solidarity with his Ukrainian friends, detained in Minsk during the Chernobyl Path.
On 1 April 1997 he was detained and charged for taking part in the the Day of Will, Belarusian Independence Day on 23 March 1997 at which demonstrators and militia clashed many times. He was charged under the art. 339, part 2 of the Criminal Code (hooliganism). Kijko was detained for three months in the Volodarka prison. He was released from prison in July but was forbidden to leave his place of residence. Ryhor Kijko was sentenced to two years of forced labour at the place of detention. At that time it was one of the first politically motivated decisions, and seemed to be very strict. He was released on 26 April 1999.