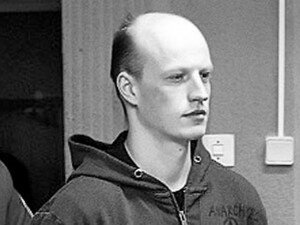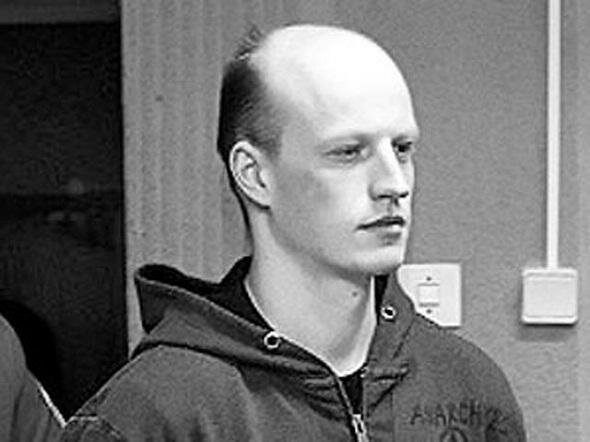 Ihar Alinevich was born on 24 September 1984. He graduated from the Belarusian State University of Informatics and Radioelectronics, earning an engineering degree in electronics. He was involved in the work on the construction of Russian-Belarusian satellite. During his studies he took a year off to work on a cruise ship in the Caribbean Sea. Through this adventure, he managed to visit other countries and learn foreign languages. Since early age he was interested in history, especially in the history of the anarchist movement. He read works of the founders, theorists and practitioners of this movement, e.g.,  Bakunin, Kropotkin, Makhno and others. Friends of Ihar Alienevich claim that he is an intellectual and a very interesting person. He considers himself to be an anarchist, during the trial he refused to deny his views.
Chronicle of repression
 On 27 May 2011, Judge of the Zavadski district court of Minks, Zhanna Khvainitskaya sentenced Ihar Alinevich to 8 years in a medium security penal colony. He serves his term in the penal colony No. 10  in Novopolatsk.
Ihar Alinevich was accused of attacks against the Russian Embassy and the Moskva-Minsk Bank, an attack against the remand prison of Minsk, an attack on a Casino (article 218 par. 3 of the Belarusian Criminal Code, intentional damage to or destruction of property) and an illegal demonstration at the military headquarters (article 339 par. 2 of the Belarusian Criminal Code, hooliganism).
Ihar was forcibly kidnapped in Moscow by representatives of an unidentified secret services and taken to the pre-trial prison of the KGB in Minsk (Volodarka prison). Human rights organizations  reported  that unlawful and arbitrary detentions were used towards the accused, grossly  violating of the International Covenant of Civil and Political Rights, ratified by the Republic of Belarus.
Ihar was beaten and tortured while in the custody of the KGB.
Before he was transferred to the Volodarka prison in Minsk, the authorities offered him a work as a hacker. Alinevich flatly refused. According to Ihar Alinevich's mother, her son has three times refused to cooperate with the KGB, and he was imprisoned by the authorities for the refusal.
Was serving his term in penal colony # 10 in Navapolatsk. In July 2014 was transferred to the penal colony "Vitsba-3"