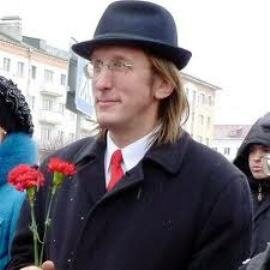 Belarusian opposition activist and artis.
He was born on 6 August 1965 in Bobr. He attended the local school, he studied at the State Higher School of Art and at the Belarusian State Institute of Art and Theatre. He organized his first political performance in 1989 in Minsk on the porch of the Institute of Performing Arts (now the Academy of Fine Arts), where he studied. During the performance he presented a poster with the Belorussian Soviet Socialist Republic flag that was crossed and next to it there was white-red-white Belarusian national flag. It was a form of protest against the university authorities that introduced the ban on the organization of the exhibition dedicated to the Belarusian People's Republic. He is a pacifist, but during the war in Afghanistan he was drafted into the army and was sent to the front. During the war, he kept a diary in the Belarusian language in which he was describing the war reality. The views contained therein were deemed anti-Soviet.
Chronicle of repression
He was detained and arrested a number of times for participating in oppositional political campaigns. In 1988, he was arrested for distributing leaflets encouraging people to participate in the Forefathers' Eve at the Eastern Cemetery in Minsk. In July 1989 he was sentenced by the Minsk court for the preparation of happenings on the occasion of 71 anniversary of the Belarusian People's Republic. He was sentenced to two years on probation.
In 1999 he organized the happening "Gratitude to President" on the occasion of the formal end of the first term of presidency of Aliaksandr Lukashenko. Pushkin brought to the office of President wheelbarrow with manure and the inscription: "For the President Lukashenko." He was detained, and was released from jail after he signed a document forbading him to leave his place of residence.
Before the presidential elections of 2006. Pushkin was arrested for three days for an alleged telephone conversation in which he criticized the head of the KGB. He was fined and released. In 2006 he was tried for pouring black paint on the monument of  the USSR hero – Chebotarev. In the absence of evidence the investigation was discontinued. On 9 December 2010 (10 days before the protests in central Minsk) Pushkin was arrested for hooliganism. While in prison, he announced a hunger strike. As it turned out later, it was a preventive arrest. He was released after 13 days. Ales currently lives in the home town of Bobr and is engaged in artistic activities