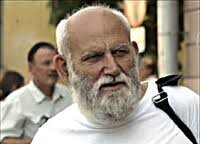 Valery Shchukin is a freelance journalist, human rights activist and a member of the 13th Supreme Soviet. He was born on 22 March 1942 in Vladivostok (Russia). Graduated from the Leningrad Higher Naval Engineer College. Capitan of the second rank of reserve. In 1960-1987 served in The Naval Fleet of the USSR. He is actively engaged in journalism and human rights activities.
Member of the Belarusian Party of Communists (BPC). In 1998 excluded from BPC.
Chronicle of repression
Valiery Shchukin has established an original record in the total sum of received fines and arrests for the oppositional activity. He was arrested for the first time in 1998. Since that time he has been several times sentenced to administrative detention and three times sentence by a court. Valiery says the worst day that he spent in the prison was in Zhodin where he was forced to shave his beard.
Valery Shchukin attended the Freedom March in Minsk on 17 October 1999. He was detained on 19 October 1999 and charged with "organization and active participation in group actions, seriously violating public order."  He was severely beaten during detention. The Minsk City Court sentenced Shchukin to suspended prison term of one year under the art. 168, part 3 of the Belarusian Criminal Code. Later the sentence was changed to home arrest. Valiery was sentenced unlawfully as he was protected under the parliamentary immunity.
In 2001 Valery Shchukin, having a journalistic pass of Narodnaya Volya attempted to enter the press-conference of Vladimir Naumov, Interior Minister, but the guards pulled him back. There started a clash and they accidentally broke the glass doors, leading inside the building. Shchukin was sentenced to 3 months of imprisonment. He was released on 13 August 2001.
In 2007 Valiery was charged with violation of the article 189 of the Criminal Code for insult of members and workers of the election commissions during the campaign for election of deputies of local Councils in 2007. After elections to local Soviets which were held in Belarus in January 2007, the human rights activist distributed leaflets informing that members of election commissions had been taking part in rigging election results. He has been sentenced to a fine of 40 basic units (1,240,000 BYR).