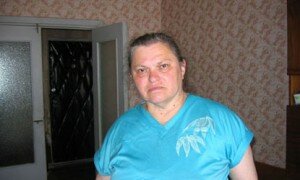 Kaciaryna Sadouskaya was born on 28 January 1946 in Homel. After finishing school she found job in Svetlogorsk. After a year she moved to Minsk. She worked as a tram driver, at a communal farm and in a factory. Since 1988, engaged in human rights movement. In the mid-90's, she started to cooperate with the Party of Common Sense, in which office she created a special unit concerned with human rights. Kaciaryna's aim was to help people socially vulnerable, she found for them lawyers, helping them to write the complaints concerning the lawlessness of individual officials and unjust decision.
Chronicle of repression
In June 2005, the authorities initiated a criminal case against Kaciaryna Sadouskaya, accusing her of insulting a judge. She was also charged with  insulting the head of state as the KGB intercepted a letter Kaciaryna sent to her Russian colleague. On 25 June 2006 the KGB investigators placed her in a psychiatric hospital. Later she was transferred to a detention center. On 23 October 2006 Kaciaryna Sadouskaya was sentenced to two years of imprisonment for insulting Lukashenko and a judge. She served her sentence in the female penal colony in Homel. She was released on 25 May 2007.