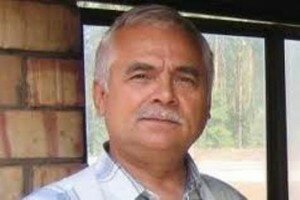 Aliaksandr Vasiljeu was born on 18 March 1946 in the village Golicyno in Russia. After completing military school he graduated from the Leningrad Artillery Academy. From 1964 to 1991 he served in the Soviet Army, he ended his service in the rank of lieutenant colonel. He served also in the German Democratic Republic, where he witnessed the fall of the Berlin Wall. Together with Valery Levaneuski he led nationwide strike of entrepreneurs.
Chronicle of repression
On 7 September 2004 Aliaksandr Vasiljeu was arrested for libel against the President and for organization of  unauthorized meeting on 1 May 2004. He was sentenced to two years of imprisonment. The prosecution used the text of the leaflet that was distributed during the meeting on 1 May. The leaflet contained a poem which according to the court was insulting the President. On 7 July 2005 Aliaksandr Vasiljeu was released from prison on amnesty. He served his sentence in Grodno, and later in the Orsha penal colony.