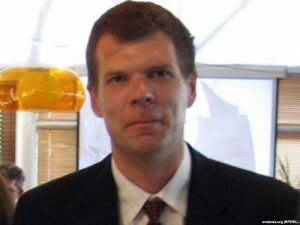 Brother of a well known Belarusian politician Vyacheslav Sivchik.
Chronicle of repression
Kastus Lukashou was accused under the art. 364 (violent actions against a militia officer). The authorities accused him of running down a militia officer on 28 March 2006, when Kastus collected his brother from the hospital in Minsk. On the same day officers in plain clothes tried to detain his brother. Kastus was not detained until 19th December 2006. He was taken from to the Institute of Geochemistry and Geophysics of the National Academy of Sciences, where he worked and transferred straight to a detention center in Minsk. On 20 February 2007, a court in Minsk found Konstantin Lukashou guilty of the alleged offense, the judge Zinaida Krasowskaja sentenced him to two years of imprisonment, suspended for two years. The judge also ordered Kastus to pay the militiaman a restitution in the amount of 1 million rubles. Lukashou appealed against the sentence and on 3 April the Minsk court referred the matter for reconsideration. On 9 July the Deputy Chairman Tatiana Zulkowskaja issued the same sentence: 2 years imprisonment, suspended for two years.