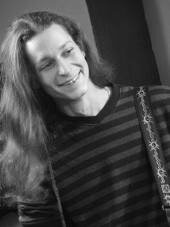 Born on 12 February 1992 in Leninogorsk, Russia. Later moved to Minsk with his mother. Activist of the European Belarus civil campaign. He graduated from high school No. 85 in Minsk. He is passionate  with music, he participated in several music competitions. Self taught himself to play guitar and bass guitar, he was the guitarists in several rock bands. He has worked in various places to help mother, who raised him alone. He planned to begin studies at the Academy of Music. After his release, he continued his adventure with music, together with his colleagues he organized concerts.
Chronicle of repression
Detained on 27 January 2011 for taking part in the 19th December 2010 protest. He was charged under the art. 293 of the Criminal Code (mass riot). He was in custody in Minsk pre-trial prison No.1 in Volodarski Street. On 12 May 2011 he was sentenced to three years of imprisonment. In June 2011 he was transferred to a penal colony in Bobruisk. Siarhiej Kazakou was released on amnesty on 13 August 2011.