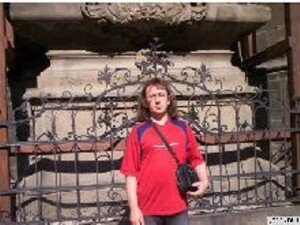 Ihar Korsak was born in 1974. He studied at the Academy of Fine Arts. In the 90's he was one of the activists of the White Legion – a patriotic organization of Belarusian soldiers, which was later resolved.
Chronicle of repression
On 31 August 1998, the court in Minsk issued a judgment sentencing Ihar Korsak and Pavel Silivonchik. Both men were detained by militia officers on 2 June 1998 at 5:00 in the morning, when they were hanging oppositional posters and painting on the walls symbols of the informal organization White Legion. This symbol is widely used in national ornamentation.
After detention, Korsak and Silivonchik, spent six hours at the militia station. Their homes were searched. After a month of their detention they were presented with allegations and they were banned from leaving their place of  residence. Initially, the case was of an administrative nature, but later it was reclassified as a criminal case.
Korsak and Silivonchik were accused of committing a crime under the article 201, part 2 of the Belarusian Criminal Code (hooliganism). Mr. Sluka,  the prosecutor, demanded for accused one year of suspended imprisonment. In court, the accused pleaded partially guilty. They were sentenced to a fine of 10 minimum wages (2.5 million BYR).
In July 2008, after an explosion at a concert on 4 July, Ihar Korsak was arrested by the KGB officers on suspicion of malicious hooliganism. At that time, Ihar was not involved in political matters. However, his apartment was searched. Korsak spent 10 days in the Okrestina prison, where he led a hunger protest, he was released on 18 July.