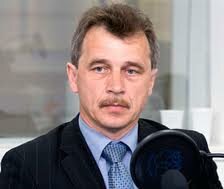 Born on 27 June 1961 in the village of Tryles. Worked as a mechanizer on a collective farm in his district. Then he entered the Faculty of French and History of Minsk Pedagogic University, graduating in 1985. Between 1985 and 1987 Anatol served in the Soviet Army. Then he worked as deputy head of the boarding school in Ashmyany. In 1990 he was elected deputy of the Supreme Soviet. In 1992, he founded and headed the Belarusian Association of Young Politicians. In 1993, he graduated from the Law Faculty of the Belarusian State University. During the 1994 presidential election, Anatol worked in Lukashenko's election campaign team, but soon joined the United Civic Party. In 1995, he was re-elected deputy of the Supreme Soviet. He denounced the 1996 referendum and refused to join the National Assembly after the dissolution of the Supreme Soviet.
Chronicle of repression
He has been repeatedly repressed by the authorities for his political activities. Anatol was several times charged with libel of the President. On 19 October 2004, he was arrested together with Mikola Statkevich and Pavel Sieviarynets for participating in the protest rally against Lukashenko's third term in office. He was badly beaten during the detention.
During the 2010 presidential election, he worked in Jaroslau Ramanchuk's election campaign team. Anatol was detained in his apartment on 20 December by the KGB and put in the KGB pre-trial prison. He was facing charges for staging mass riots. Released on recognizance on 6 March 2011. On 23 August 2011, the criminal case against Labedzka was closed due to lack of criminal offense.