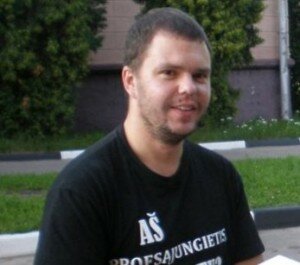 Uladzimir Siarheyeu – an activist of the Young Front, one of the detained in the Case of 14 in 2008. He attended the secondary school No. 24 in Minsk and then studied law at the Belarusian State University. 
Chronicle of repression
Uladzimir was detained several times for participating in the actions organized by the opposition. In 2006, he was convicted for taking part in the action of solidarity with Aliaksandr Kazulin.
On 10 January 2008 thousands of people, including civil society activists and businessmen, took to the streets in Minsk to participate in a demonstration against the introduction of a presidential decree concerning restrictive tax and employment regulations for small businesses. The demonstration was organized by entrepreneurs who had applied to the authorities for permission to hold the demonstration. They did not receive a reply to their request and decided to go ahead with the protest. Uladzimir Siarheyeu took part in the rally, was arrested and detained for 15 days under the article 23, part 34 of the Code of Administrative Offences of the Republic of Belarus (violation of the procedure for organizing or conducting a mass event or demonstration).  Later the accusation was changed to the article 342, part. 1 of the Criminal Code of the Republic of Belarus (organization and active participation in group actions, seriously violating public order).
On 22 April 2008 Uladzimir Siarheyeu was found guilty and fined with 100 minimal wages ($1650). Before the sentence became valid the authorities tried to conscript Uladzimir to the army.