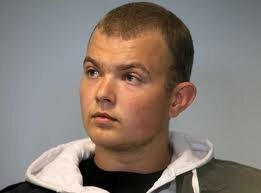 Born on 24 April 1988 in Minsk. Graduate of  a vocational school. epeatedly detained by the militia for his political activity. Former activist of the European Belarus campaign. In 2007 he was sentenced to 5 days of arrest. In 2008 Pavel was one of the defendants in the Case of 14 and was sentenced to 2 years of freedom restriction. Released on the amnesty a year later.
Chronicle of repression
Activist of the Tell the Truth! campaign since summer 2010. Pavel was one of the most active members of Uladzimir Niaklajeu's campaign team. Arrested on 5 January 2011 for participation in 19 December 2010 peaceful demonstration and charged under the art. 293, part 1 and 2 of the Criminal Code (mass riot). His apartment was illegally searched. He was in custody of the Minsk pre-trial prison No.1 in Valadarski Street. On 5 May he was sentenced to 4 years of imprisonment.
Released on amnesty on 14 September 2011