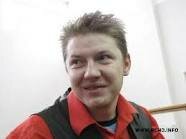 Yury is an activist of the Belarusian Christian Democracy party from Navahrudak.
Chronicle of repression
On 12 November 2009 Yury Kazak was summoned for hearing in the criminal proceedings brought in connection with the event that occured on the anniversary of the October Revolution in Navahrudak. On 7 November the monument of Vladimir Lenin on the main square of Navahrudak was poured over with green paint. Several activists of BCD were detained as suspects.
On 11 January 2010, the district court in Navahrudak delivered a sentence to Yury Kazak. The court fined the youth activist with 250 minimal wages (8 million 750 thousand BYR).
Yury Kazak was defended by lawyer Paval Sapielka. He was charged under the article 339, part 1 of the Criminal Code (hooliganism).