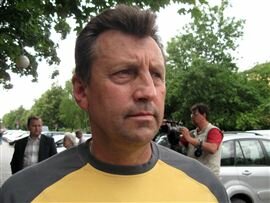 Mieczyslaw Jaskiewicz is a chair of the Union of Poles in Belarus, branch in Hrodna.
Chronicle of repression
Mieczyslaw Jaskiewicz was arrested on 5 November 2006 on charges of initiating a fight at the bus stop. He was accused under the article 339, part 1 of the Criminal Code of the Republic of Belarus (hooliganism).
Mieczyslaw Jaskiewicz  was tried on 9 February. He was found guilty by judge Zhanna Vierchas and sentenced to a fine of 40 minimal wages (1,240,000 BYR). The Union of Poles in Belarus said it was a provocation and the case was politically motivated.
In march 2008 Mieczyslaw Jaskiewicz was detained by militia, as the officers conducted a search of his car and confiscated newspapers and publications of the unregistered Union of Poles in Belarus. Since that time he was sentenced to administrative detention several times.