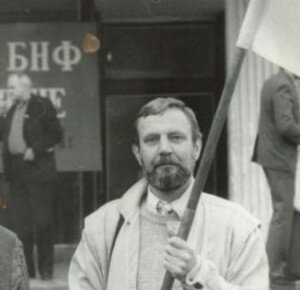 Valery is a Belarusian activist, known for his participation in the protest actions in the late 80s and 90s of the twentieth century. Valery Sedov is sometimes called the last Soviet dissident. He was born in Georgia in the '60s in the Russian family, his grandfather came from a family of Cossacks, sent by Catherine II to the Caucasus.
Sedov worked for the newspaper Novosti Wozrozdienia, he worked at the Institute of Philosophy of the Academy of Sciences, and worked on his PhD. In 1989 when the Belarusian Popular Front (BPF) was founded, Sedov joined it. Soon, he was elected a member of the Board of the BPF.
Chronicle of repression
On 7 November 1990, Sedov took part in the anti-communist rally, he was arrested and placed in one of the Minsk prisons. Criminal case against him was initiated because after the rally he climbed on a statue of Lenin, that stood in front of the parliament building, and hung on it the anti-communist symbol: a cross wrapped in barbed wire. Sedov said later that he placed the symbol on the statue "on behalf of millions of oppressed people, including Belarusians" (quote from an interview that Sedov gave for Radio Svaboda).
Valery Sedov was the first person in Belarus who announced politically motivated hunger strike. He spent in prison70 days out of which 32 on a hunger strike.
After 20 years he returned again to the politics and oppositionist activity. On 20 January 2011 Valery Sedov took part in a demonstration of solidarity with political prisoners, who were arrested for a participation in the demonstration on the Independence Square, on 19th December 2010. He was arrested for 12 days.