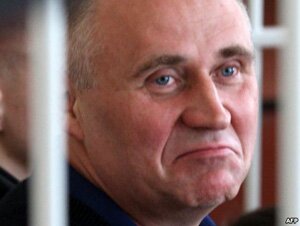 Paris – Minsk, 19 December 2013 – The heavy-handed crackdown on a protest meeting that took place three years ago today in Minsk's Independence Square was followed by a wave of arrests, detentions, and subsequent prosecutions of opposition members, activists, citizens, and even several presidential candidates participating in peaceful demonstrations throughout Minsk. The opposition politician and presidential candidate Mikola Statkevich was also arrested on December 19, 2010, and he remains in prison to this day.
On May 26, 2011, the Lenin District Court sentenced Mr. Statkevich to six years of deprivation of freedom with service of sentence at a medium security penal colony under Article 293(2) of the Belarusian Criminal Code. Mr. Statkevich has currently served half of his sentence.
Representatives of Belarusian human rights organizations monitoring the trial concluded that Mr. Statkevich was not proven guilty of committing the incriminating actions he was accused o f— namely, organizing mass unrest or directly supervising or participating in it, and they stated that the trial did not meet the standards of an independent and impartial trial. The human rights organisations also voiced their objection to the government's classification of the events of December 19, 2010 as mass unrest, while the excessive use of force applied by Belarusian law enforcement agencies and the subsequent repressions drew words of sharp and unequivocal condemnation from the international community.
It is true that as a presidential candidate officially registered with the Central Election Commission of Belarus, Mr. Statkevich did on numerous occasions call on citizens to take part in the peaceful protest demonstration, and to express themselves regarding the Belarusian presidential election and the participation of Alexander Lukashenko, who has been in power since 1994, in this election.
FIDH and the Human Rights Center Viasna note that the right to peaceful assembly is guaranteed by both the Constitution of Belarus and international law in the sphere of human rights.
On June 19, 2011, the Working Group on Arbitrary Detention of the UN Human Rights Council issued a decision that Mr. Statkevich's imprisonment is arbitrary and contravenes Article 9 of the Universal Declaration of Human Rights and Article 9 of the International Covenant on Civil and Political Rights, which was ratified by Belarus. The UN Working Group called on the government of Belarus to take the necessary measures to correct this situation, including the immediate release of Mr. Statkevich and payment of adequate compensation.
During his prison term at the penal colony in Škłoŭ, Mr. Statkevich has been repeatedly subjected to various forms of disciplinary measures, including placement in a punishment cell and cell-type room for "malicious violation of regulations." At a closed meeting on January 12, 2012, the Škłoŭ District Court changed Mr. Statkevich's punishment regime to a stricter one consisting of three years imprisonment. During the course of his imprisonment, Mr. Statkevich has been pressured with demands to sign a petition for pardon. In an attempt to achieve this goal, the prison administration organized various provocations, including when selecting his cellmates.
FIDH and the Human Rights Center Viasna believe that Mr. Statkevich was prosecuted solely due to his political activities, including the peaceful exercising of his rights to freedom of assembly and freedom of expression, and that his prosecution had the sole purpose of putting an end to his political activities.
FIDH and the Human Rights Center Viasna therefore demand from the government of Belarus the immediate and unconditional release of Mikola Statkevich and other political prisoners and their full rehabilitation with compensation for damages.