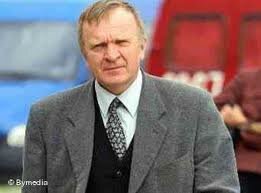 Born on 24 May 1948 in Usovo. Was the second Prime Minister of Belarus. In 1970 he graduated from the Belarusian State Institute of National Economy. Appointed Prime Minister by President Lukashenko on 21 July 1994. Prior to this, he served as head of Belagroprombank, a bank specializing in agricultural pursuits. He resigned from his post as Prime Minister on 18 November 1996, in protest against the 1996 constitutional referendum  that was orchestrated by Lukashenko to amass an unlimited authority in the country. In March 1999,  Chigir announced his candidacy for president of the Republic of Belarus.
Chronicle of repression
Two months after Mikalay Chigir announced that he would run for president of the Republic of Belarus, the authorities established a special committee to check the activities of Belagroprombank between 1991 and 1995. As a result, the investigation found six violations in terms of loan repayment.
Chigir was arrested in March 1999. He was accused of alleged embezzlment of  large sums of money involving loans while in charge of Belagroprombank. Chigir argued that the loans were not due to be repaid until after he was no longer with the bank, thus the money did not involve him. Chigir's arrest received negative reactions from governments around the world.
Mikalay Chigir was charged not as a politician, but as an economist, under the article 91, part 4 of the Criminal Code (assignment of property on a large scale) and under the article 166 of the Criminal Code (an abuse of power or position). His wife Julia Chigir served as his lawyer during the process. Chigir ultimately avoided jail time, receiving a three-year suspended sentence with a two-year probationary period. In November 2000, he run for election to the House of Representatives of Belarus, however he did not collect the required number of signatures.
On 23 July 2002 he was once again sentenced to a three-year suspended sentence with a two-year probationary period and was deprived of the right to engage in any business or administrative activities for 5 years. This time he was accused of tax evasion. Given the interest he was supposed to owe to the state 8 057 355 BYR. Mikalay Chigir promised to repay the debt.