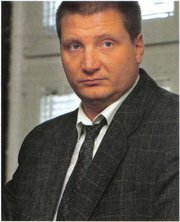 A Belarusian businessman, an opposition activist. Born on 12 September 1972. In 1993, he founded the company Trajs. He was a member of the Young Front. Supported financially and technically the Mahilou Centre for Human Rights, youth committee of the Belarusian National Front (BNF) and the Young Front. Andrej's company also produced series of agitational materials of Belarusian parties and NGOs.
Chronicle of repressions
Andrej was detained during the Chernobyl Path in 1996, an annual demonstration that takes place in commemoration of the Chernobyl nuclear accident. He was arrested for ten days.
On the basis of fabricated evidence the authorities opened a criminal case against Andrej Zhukavec. In March 1999, Andrej was forced to leave Belarus and seek political asylum in Poland. He moved to Bialystok. In 2001, he was one of the founders of the Union of Belarusian political refugees in Poland. In 2002, he founded the information and analytical center Belarus-NATO. He has organized a number of  meetings of the members of the Belarusian oppositional politicians with Polish deputies and President Lech Kaczynski in Warsaw in 2003-2005. From the moment of arrival to Poland he has been strongly engaged in activities concerning human rights.