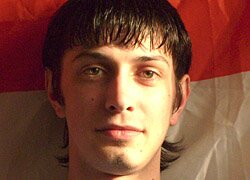 Born on 9 May 1988 in Pinsk. He studied at the University of Wroclaw in Poland, and at the University of St. Petersburg. One of the defendants in the Case of 14. He is an independent journalist. He lives and works in Minsk.
Chronicle of repression
Thousands of people, including civil society activists and businessmen, took to the streets in Minsk on 10 January 2008 to participate in a demonstration against the introduction of a presidential decree concerning restrictive tax and employment regulations for small businesses. The demonstration was organized by entrepreneurs who had applied to the authorities for permission to hold the demonstration. They did not receive a reply to their request and decided to go ahead with the protest.
Barazenka was charged under the art. 342, part 1 of the Criminal Code of the Republic of Belarus (organization and active participation in group actions, seriously violating public order) and the art. 339, part 2 (hooliganism). 14 people were accused in the case: Aliaksandr Barazenka, Mikhail Pashkevich, Tatsiana Tsishkevich, Mikhail Subach, Ales Czarnuszou, Ales Strielcov, Pavel Vinogradov, Ales Bondar, Maksim Dashuk, Arciom Dubski, Uladzimir Siarheyeu, Mikhail Kryvau, Anton Koipish and Andrei Kim.
During the trial Aliaksandr Barazenka was in Poland, therefore the authorities stated that he: "declined to contact investigators." On 12 May 2008 an arrest warrant was issued after him. On 27 October, he and his attorney voluntarily met with investigators and he was transferred to a detention center where he started a hunger strike.
Aliaksandr Barazenka's trial began on 8 December 2008. He was sentenced to one year of restriction of liberty.