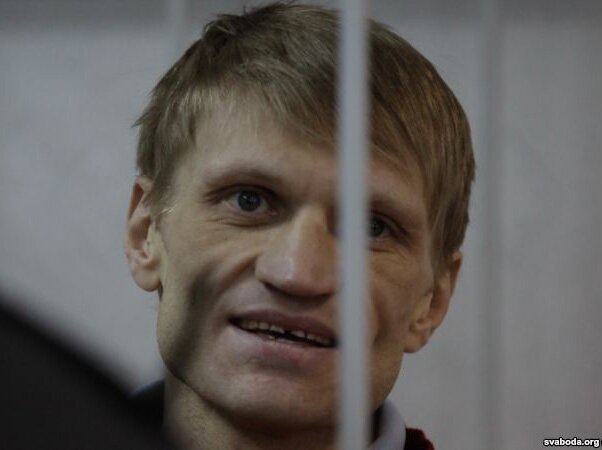 Born on 16 January 1975. He is a Belarusian political activist and member of the Conservative Christian Party of the Belarusian People's Front from Vitebsk. Siarhiej received his education in engineering and programming. Later, he became an entrepreneur, runs company renovating premises. He has two kids.
Chronicle of repression
On 7 January 2010, on the Orthodox Christmas Day, Siarhiej Kavalenka placed national white-red-white flag on the 40-meter Christmas tree in the center of Vitebsk, Belarus. On 10 January Siarhiej was detained for two months.
On 13 March 2011, he was released from custody, but was forbidden to leave the city.
The court sentenced Kavalenka to three years of suspended sentence (the persecutor – Dzmitrij Rudkov, the judge – Jevgieny Burunov). The Court forced Siarhiej Kavalenka to pay the moral compensation to militiamen Ivanov and Politik (1 million BYR), Maksimov (1,5 million BYR), "Gorsvet" enterprise for damaging the illuminations (1 million  222 BYR) and to "Zelenstroy" (62 thousand BYR).
On 19 December 2011 Kavalenka was arrested under the article 415 of the Criminal Code of the Republic of Belarus (violation of the conditions of a freedom restriction). On 24 February 2012 the Pershamayski district court in Vitebsk sentenced the oppositionist to twenty five months in a low security correctional institution on a charge of violating probation rules. On 20 December 2011 Siarhiej Kavalenka started hunger-strike, during which he lost 30 kilograms. In April 2012, the authorities started force feeding him to keep him alive. Kavalenka ended his hunger strike at the end of May.
Hunger strike, on which Kavalenka had been for a few months, led to irreversible changes in his body, but Belarusian authorities refused to provide independent and specialist medical care. On 10 April 2012 the Vitebsk regional court ordered that Siarhiej Kavalenka should be subjected to comprehensive mental examination and the oppositionist was moved to a psychiatric hospital in Minsk.
On 18 May the court rejected Kavalenka's cassational appeal and Kavalenka was moved to Mahiliou penal colony No. 19. On 26 September 2012 Kavalenka was released from prison. The political prisoner was pardoned by the President. Siarhiej wrote the petition for clemency under pressure, which lasted several months.