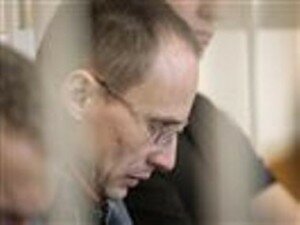 Jauhien Sakret was born on 3 October 1966 in Minsk. After graduating from the high school No. 110, he served in the army. He graduated from the Technological Institute of Forestry (now the Belarusian State University of Technology). Jauhien Sakret is the author of poems and prose, his works have been published in periodicals. During the presidential election of 2010 he was a member of Andrej Sannikau's election campaign team.

Chronicle of repression
Jauhien Sakret was arrested on 19 December 2010, after protests in Minsk. He was sentenced to 10 days in jail for participating in these events. After he was released from prison on 17 January 2011, he was arrested again. His family started to look after him as he did not come back for the night. After three days the officers came to his apartment to conduct a search. He was charged under the article 293 of the Criminal Code (mass riots). He was held in the Volodarka prison. On 12 May, a court in Minsk sentenced him to three years of imprisonment. He served his sentence in the colony No. 15 near the city of Mahilou. He was pardoned by Lukashenko and released on 11 August 2011.
.