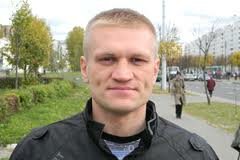 Syarhei Kavalenka is serving 25 months imprisonment in a penal colony No 19 in Mogilev. – Belarusian authorities condemned him  for only one reason –   his love for Belarus and his solidarity with democratic values – says Alena Kavalenka.  According to Alena his health condition is life-threatening. Hunger strike, on which he had been for a few months, has led to irreversible changes in his body.
In 2010, at Ortodox Christmas, Belarusian oppositionist, Syarhei Kavalenka, had placed  white-red-white flag on a 40 metre high New Year's tree in Vitebsk.  Kavalenka was sentenced to three years of suspended sentence. On December 19, 2011 he was arrested again for allegedly violating the conditions of his suspended sentence, he received two years and one month in prison.
From the very moment of his arrest, Kavalenka had been on hunger strike, which was interrupted by force feeding after several weeks. Hunger strike led to irreversible changes in his body. Siargey was transferred to the isolation cell in the end of July, he spent there over two weeks and was then transferred to the medical unit of the colony. His health is deteriorating.
– He is suffering from severe headaches. I do not know the diagnosis. But his deteriorating health is surely the results of hunger strike.  He never before had any health problems, he played sports, and lead a healthy lifestyle. It is obvious that the detention in solitary confinement, where conditions are very bad, did not improve his health. These are deliberate actions to ruin his health – says Alena Kavalenka