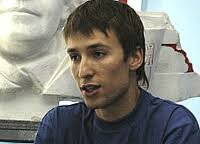 Mikita Sasim was born in Baranovichi in the Brest region. He studied at the College of Light Industry. He was a member of the Zubr movement. Mikita Sasim participated in a number of opposition protests. He was excluded from the college in June 2004 due to his political activities. He was detained several times. At a peaceful demonstration in September 2005, the security forces confiscated the banners and flags the demonstrators were using, so Mikita Sasim tied his denim shirt to a pole and waved it like a flag. He was severely beaten by the militia officers. His peaceful act of defiance inspired Belarusian civil society to adopt denim blue as a symbol of freedom. 
Chronicle of repression
In 2005 the authorities initiated a criminal case against Sasim. Militia officers detained him on 8 January and accused of writing political slogans ("Freedom for Marynich") on the buildings along the Francysk Skaryna prospectus and the Volodarsky Street in Minsk. He spent three days in arrest. He was charged under the article 218, part 1 of the Criminal Code (damage to property). On 5 April 2005, the case was dismissed due to the insignificance of the damage.
Mikita Sasim was sentenced to three months' imprisonment on 12 May for draft evasion, despite the fact that he had been granted a deferral of his military service. He had been arrested on 14 March. He spent two months in a pre-trial detention center. After his release the authorities tried several times to recruit him into the army. Sasim left Belarus.