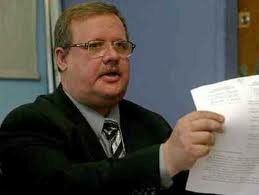 Viktor Ivashkievich was a well known Belarusian politician, activist, journalist, member of the Belarusian Popular Front and the Belarusian Congress of Democratic Trade Unions. He graduated in absentia from the Journalism Faculty of the Belarusian State University. In the 80's he was employed at the Minsk railway and was a member of the Majstrouni and Locals organizations.
21 September 1959 – 3 October 2013 – born and died in Minsk.
In 1987, he organized the Belarusian-Latvian protest against the construction of the hydroelectric power plant at the River Daugava and action to save Pripyat. In 1989 he organized a strike of bus drivers in the city of Minsk, and in 1991 he was coordinator of the strike committees in Minsk plants.
In 1990 he was elected a general secretary of the Belarusian Popular Front Revival (up to 1995). He worked as a director of the Social Science Research Center Belarusian Perspective (1995-1999) and editor-in-chief of the newspaper Rabochy (1997-2002). From 2003 to 2007 he was reelected as a BPF general secretary and in 2007 was elected a Vice-President of the Popular Front.
In 2009, he was one of the candidates for president of the party. He participated in the parliamentary elections in Belarus in 2008. In March 2010, he has registered his candidacy for the City Council in Minsk
Chronicle of repression
Since 1998, Viktor Ivashkievich was at least 10 times sentenced to administrative detention and fines. He twice led hunger strikes. In December 2002, Viktor Ivashkievich was found guilty of defamation of the President and sentenced to one year of imprisonment for his article The Thief Must Go to Prison, that was a commentary to the presidential elections 2001. He served his sentence in the prison in Baranoviche.