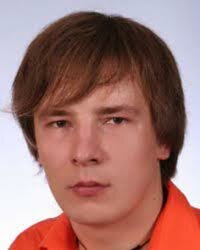 Jaroslau Hryshchenia is a young activist of the unregistered organization Young Front. For participation in the actions of the opposition was repeatedly detained and sentenced to administrative detention.
Chronicle of repression
He was accused under the article 193 of the Criminal Code (acting on behalf of an unregistered organization). The prosecutor of Baranavichy, senior justice advisor Aliaksandr Smal brought a criminal case against Jaroslau.
In the ruling  Aliaksandr Smal stated that on 20 April 2007 Hryshchenia filled a statement about cessation of activities on behalf of the Young Front, but continued his activity in the organization during the Chernobyl Path action on 26 April 2007, which could be witnessed by a militia video.
On 10 September 2007 the verdict was delivered to Hryshchenia. The prosecutor asked to punish Jaroslau with one year of imprisonment in suspension. However, the judge Vasil Petrykau ruled to fine the activist 930 000 Belarusian rubles (about $432).
Later  Hryshchenia joined Andrej Sannikau's European Belarus movement. On 15 February 2012 in Minsk he was severely beaten by militia officers.