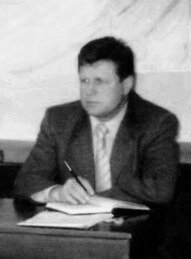 Born on 9 December 1952 in the town of Slutsk. Graduate of Belarusian Polytechnic Institute and postgraduate course in then Czechoslovakia. Worked as a university professor for 27 years. At present, he is an employee of a private company.
In 1992-2005 – member of the Belarusian Social Democratic Party. In 2001 elected deputy chair of the BSDP "Narodnaya Hramada" founding committee (chaired by Mikalai Statkevich). During the 2010 presidential election was an activist of Statkevich's campaign team.
Chronicle of repression
Detained on 19 December 2010 together with Mikalai Statkevich (the taxi they had taken was blocked by the police). He was imprisoned in the KGB pre-trial prison, released on recognizance on 15 February. Officially charged under Art. 293 of the Criminal Code ("organizing mass riots"). On 25 August 2011 Arastovich learned that the criminal case was closed, and the allegations against him were dismissed.