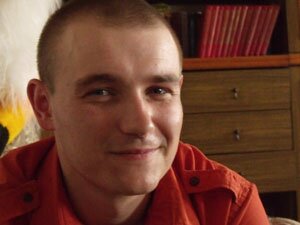 Activist of  the Young Front Uladzimir Jaromienak will take 3-month penalty.
Jaromienak shaved his head. He says that he did by himself, so that they would not shave him in the prison, because the conditions are worse there than at home. «I decided this: the hair will grow back just when I go out for freedom», – he said.
Jaromienak took with him only what is necessary, informs Radio Svaboda.
"I've had prison experience, so I know what and how much you can take with you. By the way, I may give up smoking in jail. But I took cigarettes with me because on one way or another there is a demand for them in there", – said Jaromienak.
Outside the prison he left his pregnant wife, Valentina. She will give birth in the spring, after the release of her husband.
However, Vladimir admitted that, despite the fact that the sentence is short, he will be experiencing it because of his wife:
"Of course , I'll be worried, but there are relatives who will be with her. I will follow the events in the country with newspapers and letters from friends. I feel normal. I am ready to serve the judgment."
In this moment, it is not yet clear where exactly will Vladimir Jaromienak take a penalty. His wife Valentina in the next few days will go to the Department Execution of Sentences to find out where he will be sentenced.
In August 2013 the court decided to convict Jaromienak for 3 months.
Jaromienak was accused in the case of mass riots in Minsk on the 19th of December 2010. He was sentenced for three years in a top security penal colony, but in August 2011 he was released by the Presidential Decree of pardon. Then it was established a preventive supervision over him, later Jaromienak was twice getting to court. On the 27th of April 2012, he was sentenced to seven days of administrative arrest for petty hooliganism, and on the 24thJanuary 2013 –for 12 days in jail for violating the terms of preventive supervision.
It should be noted that at this time the preventive supervision, for which the violation of which Jaromienak was sentenced to three months detention, has already been removed. Simultaneously, a former political prisoner remains under preventive supervision – it means that he may leave their place of residence and even go abroad, but in the absence of longer than one month should be pre-empted by the inspector.