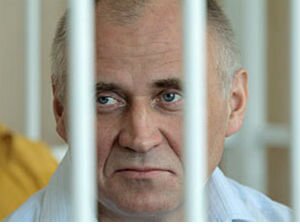 Mikola Statkevich in his letter from Mogilev prison, shared his thoughts on modern Belarusian television. Recently Mikola, received TV from friends. During one and a half year in prison he was not allowed to watch television. Mikola Statkevich watch Belarusian and Russian stations.
Mikola's wife, Marina Adamovich cites fragments of a letter from the political prisoner: "I watch mainly news. Because everything else, with few exceptions, is simply dull. There is visible decline in the intellectual level of Russian TV programs, at the same time the volume of propaganda in the news is much higher. This is, in my opinion, for two reasons. Firstly, the most intellectually demanding audience turned to the Internet and television stations must target themselves to the audience that remained. Secondly, apparently Russian authorities in this way responded to the protesting minority and limit the democratization. Belarusian channels have not changed too much. On the positive side I have noticed the emergence of some good documentary films about historical issues and improvement of the attitude to the legacy of the Grand Duchy of Lithuania."
Mikola Statkevich was sentenced to 6 years of imprisonment for participation in the events of 19 December 2010. He serves his sentence in a closed prison in Mogilev. The authorities describe him as  a criminal, a prisoner refusing rehabilitation, prone to breaking prison regulations.